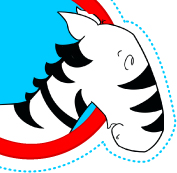 Two epic tales with guided reading features embedded: Tale of a Singing Zebra and the long awaited sequel Operation Rescue Lucy. Both charmingly illustrated and written with an engaging plot to hook your readers. Written for early readers, or those that are struggling. The emphasis is on reading for fun, boosting motivation so as to view reading as chore-free. Each chapter builds suspense and includes strong messages of friendship and overcoming adversity.
Tale of a Singing Zebra (9 chapters): George helps to rescue Roy the zebra from the worst zoo in the world and then together they take off on an adventure to find Roy's herd.
Operation Rescue Lucy (7 chapters): A team of zebras led by Roy and George rescue Lucy the elephant from a maximum security zoo; the long awaited sequel to Tale of a Singing Zebra.
Both stories come with before and after guided reading discussion sheets plus super certificates for each chapter, include optional narration by the author and are tablet compatible (iPad, Android and Windows). Equally perfect for laptops and desktops with full screen option available.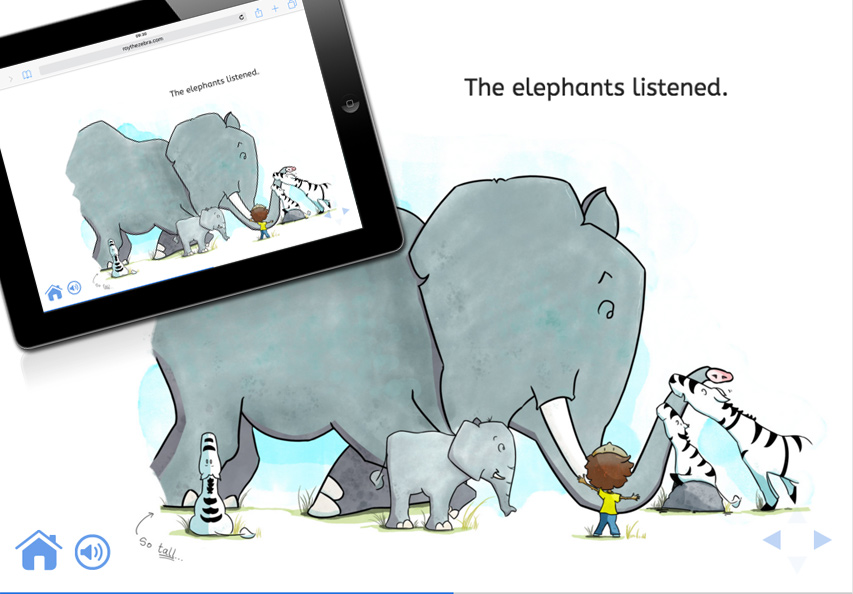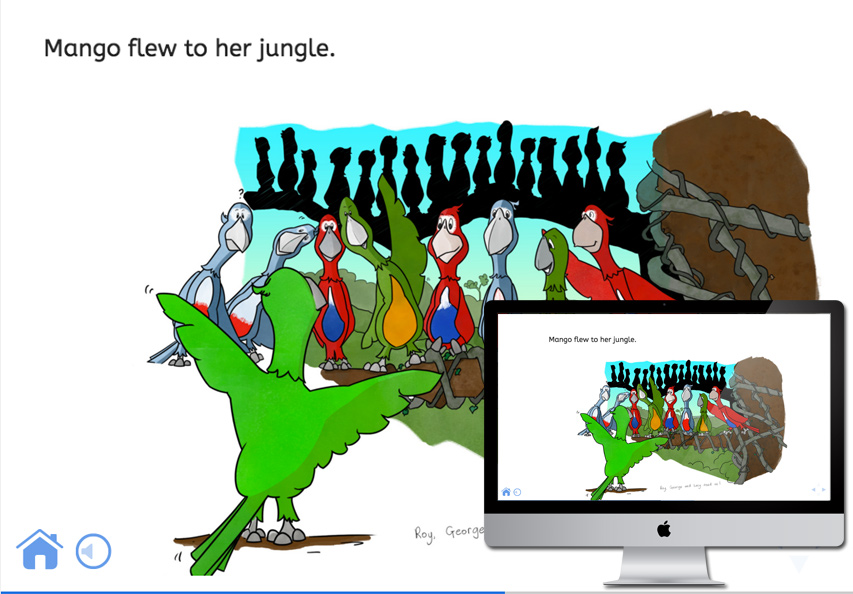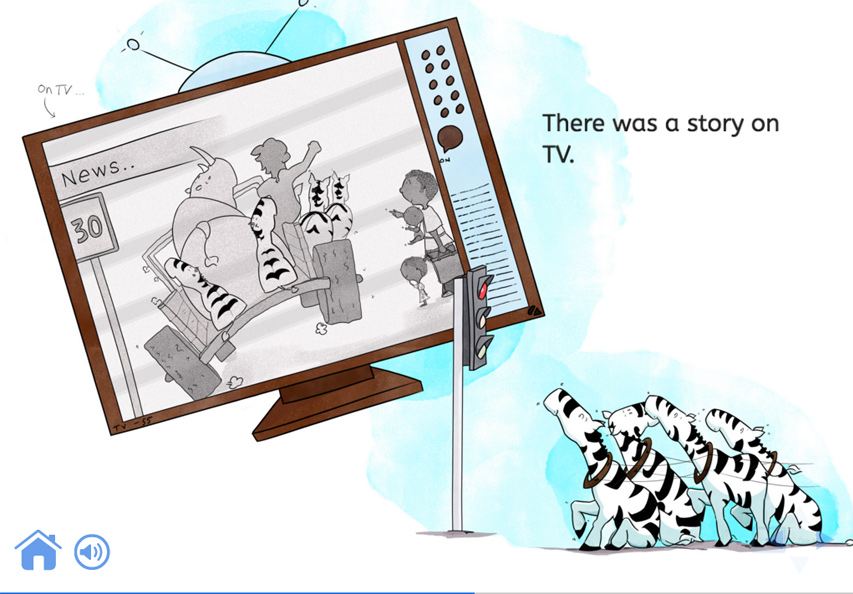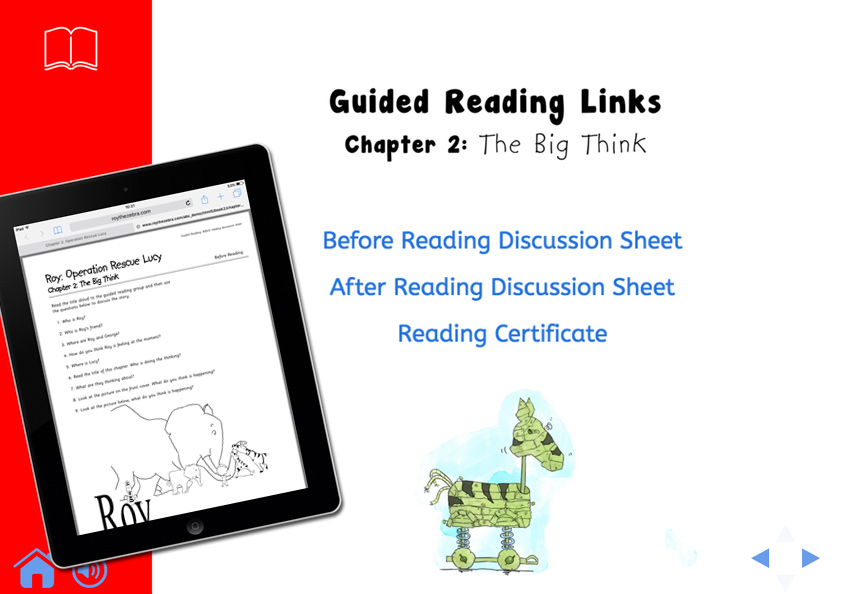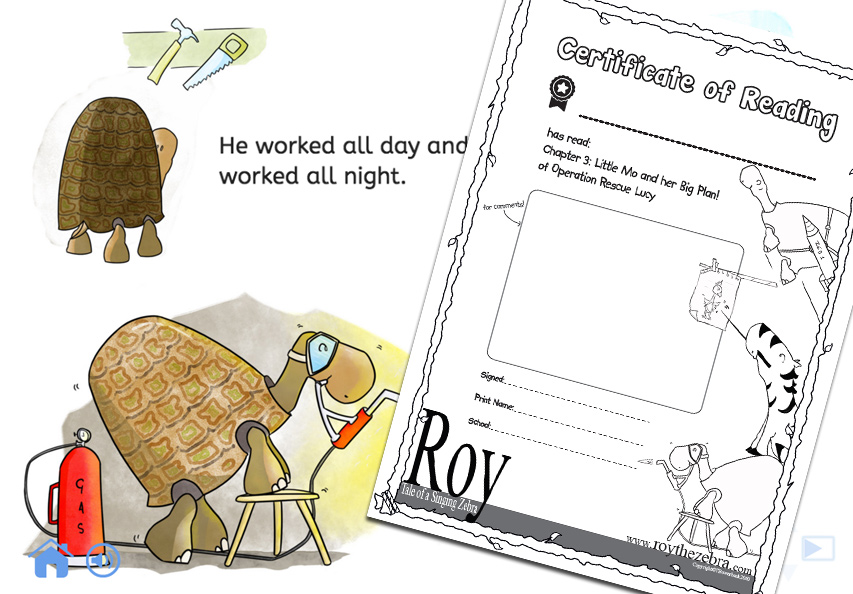 Research has shown that students relate to the characters, enjoy the zany sense of humour and benefit from the strong messages of friendship and supporting those in need...
The resources on the site do not constitute a reading system but can be a great affordable tool for enhancing your current resources, particularly with one-to-one work with those that are finding learning to read more challenging than others.
Summary:
Developed to support reading skills of 5-7 year olds, or those that are struggling with their reading.
Lovingly illustrated with characters that your students will find funny and relate to.
An engaging plot that will connect with the minds of your students.
Built in suspense; formatted into chapters to build suspense and hook your most reluctant readers.
Strong messages on friendship and supporting those in need.
Driven by the desire to create an affordable resource that can supplement a reading programme.
Powered by passion for literacy
...and definitely the definitive guide for zebras on how to rescue an elephant from a zoo.
Some nice technical features too..
the story is embedded in a new super-friendly interactive format which includes: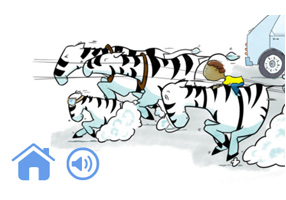 Narration (optional)
Click or swipe to advance the story
Rewarding: each chapter comes with a unique certificate to be printed and signed
Tablet compatible including iPads, Android and Window devices.
Full screen on desktops and laptops
Tale of a Singing Zebra Spec
Chapter 1: The Worst Zoo in the World (11 double page spreads)
Chapter 2: The Great Escape (11 double page spreads)
Chapter 3: The Zebra Warp Drive (15 double page spreads)
Chapter 4: The Big City (12 double page spreads)
Chapter 5: The Movies (11 double page spreads)
Chapter 6: Frank (10 double page spreads)
Chapter 7: The Safari Park (11 double page spreads)
Chapter 8: How to Find the Herd (8 double page spreads)
Chapter 9: The Big Twitch (16 double page spreads)

Operation Rescue Lucy Spec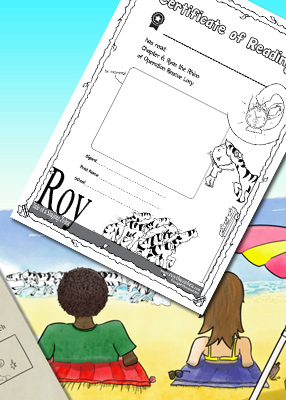 Chapter 1: A Big Thank you (7 double page spreads)
Chapter 2: The Big Think (12 double page spreads)
Chapter 3: Little Mo and her Big Plan (9 double page spreads)
Chapter 4: Meet Mango (15 double page spreads)
Chapter 5: Let's get Lucy (9 double page spreads)
Chapter 6: Ryan the Rhino (10 double page spreads)
Chapter 7: Trapped! (16 double page spreads)