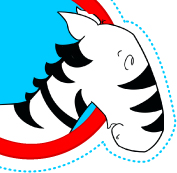 Become a member and enjoy our quirky stories, games and printable resources developed to help teach core reading skills to your early readers at school or at home.
Two epic guided reading stories: Tale of a Singing Zebra (9 chapters) and Operation Rescue Lucy (7 chapters), each chapter with before and after reading discussion sheets plus printable certificates. Tablet compatible (iPad, Android and Windows), with or without narration (by the author), perfect for desktops,laptops and interactive whiteboards.
149 interactive games (13 topics over 16 different game themes): developed to support learning of a wide-range of literacy topics (see full list), full screen, no adverts, 70 (and growing) compatible with iPads, Android and Window's tablets (see our comparison chart below). Other games require Flash Player and are great for using with PC and Mac desktops and laptops, as-well-as interactive whiteboards.
More than 700 printables: thoroughly indexed so that you can find what you need quickly. From flashcards and worksheets to bookmarks and a cool space wall display. All in A4 format.
An ideal, different and affordable solution to enhance your school's reading system or for using at home; great for one on one work… and all for less than the price of one latte per month! To become a member simply click the button below and follow the simple on-screen instructions.
Comparison Chart
Precisely compare what's included for members in comparison with our free site www.roythezebra.com
FREE: available from www.roythezebra.com
Membership:
$25.95 USD per user per year
$210.00 USD per school per year (unlimited users)
Tale of a Singing Zebra
Operation Rescue Lucy
Alphabetical Order
1 game
5 games
Capital Letter Beginner
1 game
5 games
Capital Letter Advanced
1 game
5 games
Consonant Blends CVCC*
10 games
Consonant Blends CCVC*
10 games
Does it make sense? (Beginner)
1 game
5 games
Does it make sense? (Advanced)
1 game
5 games
Double Consonants
1 game
5 games
Full Stop Game Beginner
1 game
5 games
Full Stop Game Advanced
1 game
5 games
High Frequency Words
1 game
5 games
Long Vowel Phonemes Beginner*
19 games
Long Vowel Phonemes Advanced*
10 games
Exploring Long Vowel Phonemes
1 game
5 games
Question Mark Game
1 game
5 games
Singular Or Plural
1 game
5 games
Tricky Words*
20 games
Words that Rhyme 1
1 game
5 games
Words that Rhyme 2
1 game
5 games
Words that Rhyme 3
1 game
5 games
Words Within Words
1 game
5 games
Single User Membership
School Membership
Separate login page and password for students personalised with the school name
n\a
Number of users
n\a
Single user
Unlimited users
iPad\tablet\mobile compatible
* previously sold as software